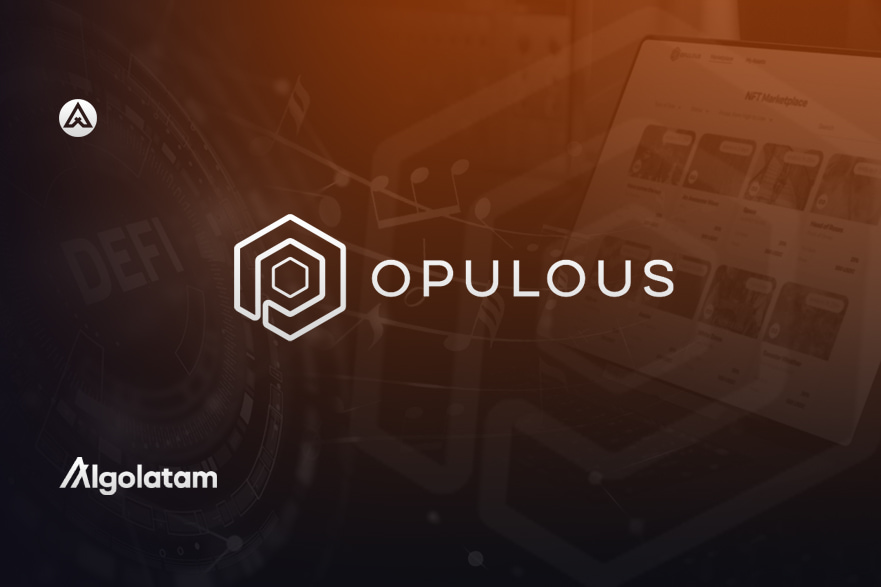 Opulous is an Algorand network project that is revolutionizing the music industry through decentralized finance. Thanks to this platform, users can connect with their favorite musicians to support them in building their career in a way never seen before, while earning rewards.
Music revolution
Opulous is a decentralized platform that serves as a livelihood for artists, allowing users to directly support them. Through this solution, musicians can access financing directly from the public, without having to use traditional systems. In this way we are facing a democratic system to empower the music industry, which enables the growth of artists.
For a long time, the music industry has presented great shortcomings for artists, who, when it comes to financing, must accept a series of harmful and unfair clauses. Many times, a large part of the financing through traditional channels is destined to the record companies and only a small part is received by the musicians.
The Opulous platform is designed to work with cryptocurrencies and also has its own token called OPUL. In this way, users of the blockchain space can access an application built to provide an excellent user experience, and provide the best options when it comes to supporting their favorite artists.
Empowering musicians and users
The music industry has always been one of the sectors where the greatest inequalities occur. Many times big record companies take advantage of the situation of independent artists to generate agreements that are totally unfair, but that the musicians end up accepting since it is their only chance to be massively successful. This situation is what Opulous tries to reverse.
Through the Opulous platform, artists can seek funding directly from their fans. This situation is very beneficial, since people are the ones who decide whether or not to support a certain musician, and with that contribution, they can support their career. We are facing one of the most revolutionary platforms of recent times, which empowers artists and users.
Users get several benefits when it comes to supporting an artist, as through their innovative tokens called MFT, people can own a piece of the music. Also, users earn rewards and can trade or sell these assets anytime they want within the app. Opulous is a complete launch pad for artists, allowing them to rise to stardom thanks to their audience.
What sets MFTs apart from other assets?
Unlike other assets, MFTs have been specifically designed by Opulous to add value to the music industry. These tokens offer buyers the ability to earn a portion of the revenue from a single, EP, or album. At the same time, they also generate rewards constantly, which is why they provide income for their holders from the moment of purchase.
On the other hand, the MFTs also have the possibility of increasing their value in the future as the artist's career grows, being also an option to obtain a revenue in the future. Unlike other types of investments, in this case users are betting on a particular artist and her songs, allowing a more tangible follow-up on the direction to be taken.
In this way, Opolous is building a new financial market, where people have the opportunity to invest while supporting an artistic career. Besides that, artists can build their careers independently without having to make unfair or disproportionate agreements.
For more information, visit their website: https://opulous.org/
Conclusion
Opulous is a launchpad for artists, allowing them to get funding directly from their fans. Users can support the career of their favorite artist, while earning rewards through MFTs, by having a piece of music in digital format in their hands.
Aviso de responsabilidad:
Este artículo no contiene consejos financieros, ni recomendaciones de inversión de ningún tipo. La información brindada se ofrece sólo con fines educativos y didácticos en cuanto a tecnología Web3 y análisis sobre sus casos de uso.
Las inversiones con criptomonedas, NFTs, tokens u otros activos digitales conllevan riesgos y no se encuentran regulados, por lo que los lectores deben realizar su propia investigación antes de tomar cualquier tipo de decisión bajo su entera responsabilidad, así como adaptarse y observar las diferentes regulaciones legales según su país de residencia.