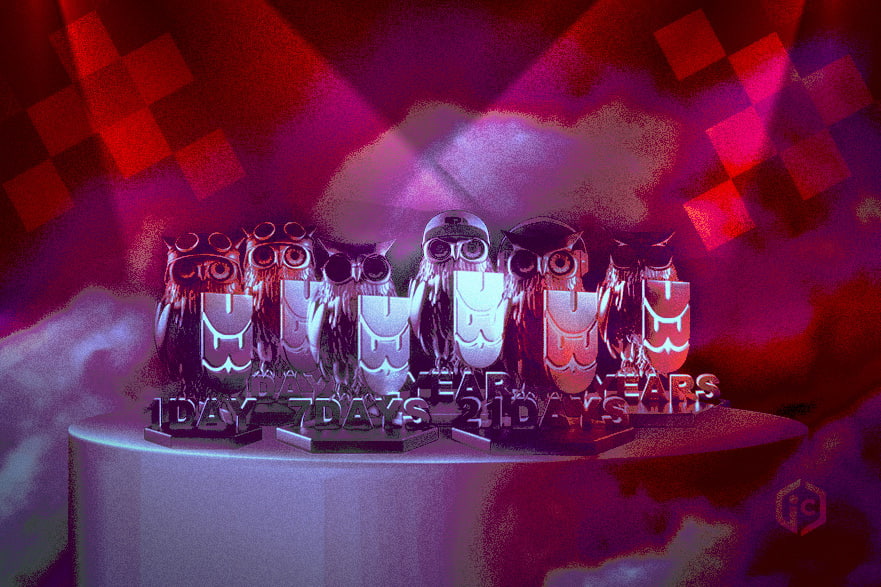 At Day By Day, we're excited to introduce our new aesthetic for protection contracts: owl NFTs, carefully designed by the talented team of Kapsule Studios. These NFTs not only provide an innovative way to safeguard assets, but also set a whole new standard of style and meaning in the exciting Web3 world.
Redefining Asset Protection through Web3
We are working tirelessly to establish ourselves as leaders in real-world asset protection using blockchain technology. Our protection contracts, represented as NFTs, have been a notable innovation in the Web3 space. With our new identity, we are taking our platform to the next level to offer even greater value to our community and all NFT holders.
Featuring Owl Images in Our NFTs
What now makes our NFTs truly exceptional is the incorporation of owl images as an emblematic image, designed by the prestigious team of Kapsule Studios, recognized for their collaborations with renowned brands such as Warner Music Group, BOSE, Nifty Gateway, BABA and SPMAX.

Our NFTs incorporate style and elegance
This captivating aesthetic not only adds a touch of elegance to your digital assets, but also represents a significant shift in the way we understand and appreciate asset protection in the Web3 era.

Unique NFTs
Our owls are not simple decorative elements; they are symbols of vision, wisdom and protection. By incorporating them into our NFTs, we want to convey a clear message that represents our values ​​in this industry: your assets are in good hands and are being carefully monitored in the vast digital world.
Exclusive Benefits for Holders
In addition to the captivating aesthetics, holders of our NFTs enjoy exclusive benefits on our platform. By owning a Day By Day owl NFT, you not only have in your hands a unique digital asset characterized by the various versions of them that exist, but you also gain access to a community committed to asset protection and growing together.

Captivating aesthetics
Additionally, when other users choose your NFT to contract protection according to your established parameters, you will receive additional benefits.
Join the NFT Revolution with Our Owls
If you are ready to dive into this exciting revolution in asset protection and enjoy a distinctive aesthetic, now is the time. Day By Day NFTs featuring owl images, backed by Kapsule Studios' experience in collaborations with brands like Warner Music Group, give you a unique opportunity to protect assets in style and become part of a passionate community.
At Day By Day we have taken asset protection to the next level at Web3, by introducing our NFTs. These NFTs now not only provide security, but also infuse meaning and style.
Join this exciting revolution with elegance at Day By Day, and get ready for the imminent mainnet launch!
About Day By Day
Day By Day is decentralizing and democratizing the global insurance industry. Using emerging technologies, the first insurtech platform of its kind, enables a new era of insurepreneurs to influence investment, while providing on-demand, hyper-personalized insurance products for clients.
Insurepreneurs can mint insurance policies (NFTs) that generate passive income and/or invest in underwriting pools (DeFi) to earn a return on investment.
The InsureFi industry will provide next generation insurance that is private, transparent and accurate. Built on blockchain and using AI, Day By Day removes current insurance process and administrative constraints to give value and security to customers.
For more information:
Twitter – Website – Medium – Discord – Telegram Group – LinkedIn – Facebook
---
Disclaimer:
This article does not contain financial advice or investment recommendations of any kind. The information provided is offered only for educational and didactic purposes regarding Web3 technology and analysis of its use cases.
Investing with cryptocurrencies, NFTs, tokens or other digital assets carry risks and are not regulated, so readers should do their own research before making any type of decision at their own risk, as well as adapt and observe the different legal regulations depending on their country of residence.
Aviso de responsabilidad:
Este artículo no contiene consejos financieros, ni recomendaciones de inversión de ningún tipo. La información brindada se ofrece sólo con fines educativos y didácticos en cuanto a tecnología Web3 y análisis sobre sus casos de uso.
Las inversiones con criptomonedas, NFTs, tokens u otros activos digitales conllevan riesgos y no se encuentran regulados, por lo que los lectores deben realizar su propia investigación antes de tomar cualquier tipo de decisión bajo su entera responsabilidad, así como adaptarse y observar las diferentes regulaciones legales según su país de residencia.