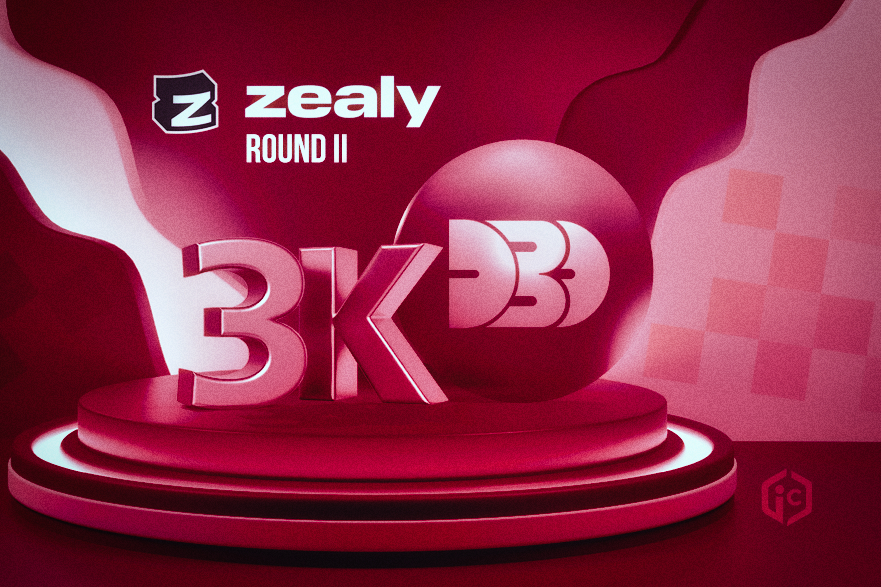 In Day By Day we have finished our first competition stage, which was a success and we hope you enjoyed it. Because of this, we decided to extend our competition with a new phase where more than $3,000 USD in prizes and new ways to win are at stake. Find out all the details to participate in the following article.
Competition at Zealy in full swing
We finished our first stage of the competition in Zealy and we want to thank everyone for having participated, as well as congratulate the lucky winners. We are building a strong community together, where everyone is taking an active role through fun activities, with the chance to win amazing prizes.
We strongly believe that this is a fun way to do activities and get rewarded for it. That is why, having finished the first stage of our competition, we have decided to extend it with a new stage, where we will give more people the chance to participate.
Our quest completion activities remain the same, and we will be adding new quests over time to give you more chances to perform actions and gain experience points. That is why everyone can continue participating as they were doing in the first stage, returning to complete missions before the deadline, and we invite all users who are not participating yet. It's really fun!
What's new in this second stage and what are the prizes?
In this new stage we have decided to add new prizes at stake, which in total add up to more than $3,000 USD. It really is a new opportunity to earn amazing rewards including DBD tokens and NFT policies, which can bring you passive income in the future, as well as can be traded on our marketplace.
For this second stage of the competition we have increased the total number of winners to give extra rewards to a greater number of users in our community. At Day By Day we are convinced that our community comes first, and we are willing to provide them with the benefits they deserve. This has been the axis when deciding to expand our awards.
That is why in this second stage, the users who are in the Top 100 will receive 1,000 DBD each, then the system will randomly select 20 users who will benefit from an NFT policy each. The prizes do not end there, since we have decided to benefit 100 random users (of the participants in this new phase) with 400 DBD for each one.
We inform you that as a condition to qualify for the «random» prizes, users must accumulate at least 1000 XP points.
The prizes are incredible, and the options to win much more extensive! Don't wait any longer and start participating now, if you haven't already.
How to enter the competition and what is the deadline?
To participate in our competition on Zealy, users need to enter our dashboard on the platform and simply connect their discord or Wallet. In this way, they will already be able to access the panel of missions to complete. We remind you that this stage is a new competition, so we invite users who competed in the first phase to continue participating.
To carry out the activities, it is enough to read the conditions of the task and execute it, such as making a publication on twitter and providing the link.
Once the review process is complete and the objectives are met, you will receive the corresponding XP (points) and will appear on the leaderboard, where the lucky winners will appear.
Steps to compete in this second stage:
1. Go to the DBD Zealy portal and connect your wallet or Discord.
2. Complete missions of different categories to earn XP points.
3. Try to complete as many tasks as possible before September 29, 2023.
4. Get to the top of the "current sprint" leaderboard.
5. Win prizes!
DBD Zealy Portal: https://zealy.io/c/daybyday/
Deadline (deadline to participate): September 29, 2023.
Prizes at stake:
Top 100 of the leaderboard: 1,000 DBD each.
20 random winners: 1 NFT policy each.
100 random winners: 400 DBD each.
Good luck everyone and start competing in this awesome Day By Day community competition today!
Do not forget to stay tuned to our official social networks to receive updates.
About Day By Day
Day By Day is decentralizing and democratizing the global insurance industry. Using emerging technologies, the first insurtech platform of its kind, enables a new era of insurepreneurs to influence investment, while providing on-demand, hyper-personalized insurance products for clients.
Insurepreneurs can mint insurance policies (NFTs) that generate passive income and/or invest in underwriting pools (DeFi) to earn a return on investment.
The InsureFi industry will provide next generation insurance that is private, transparent and accurate. Built on blockchain and using AI, Day By Day removes current insurance process and administrative constraints to give value and security to clients.
For more information:
Twitter – Website – Medium – Discord – Telegram Group – LinkedIn – Facebook
Aviso de responsabilidad:
Este artículo no contiene consejos financieros, ni recomendaciones de inversión de ningún tipo. La información brindada se ofrece sólo con fines educativos y didácticos en cuanto a tecnología Web3 y análisis sobre sus casos de uso.
Las inversiones con criptomonedas, NFTs, tokens u otros activos digitales conllevan riesgos y no se encuentran regulados, por lo que los lectores deben realizar su propia investigación antes de tomar cualquier tipo de decisión bajo su entera responsabilidad, así como adaptarse y observar las diferentes regulaciones legales según su país de residencia.